The lure of adventure
The fish around here are hungry and don't mind a fight.
That's good news for anglers.
The Big Boys, as we like to call them, are your best bet for landing a trophy fish.
Also known as spring salmon, chinooks start biting in May, but peak in June and early July before thinning out around the third week of July.
Start to show up in June, arrive in numbers in July, peak around mid-August, good in September.
Old reliable is around May to September. Smaller (15–45 lbs) in May. Up to 70 lbs in June and July. Max. weights in August.
Good in May and June (6–20 lbs.), excellent in July and August, good in September.
Good in May and June, very good in July, excellent in August.
Fish by month
The fishing is good no matter when you visit. But there are some seasonal variations to keep in mind.
Salmon
Great for chinook (a.k.a. spring salmon). Fish range 15–40 lbs.
Bottomfish
Quillbacks, chinas, tigers
Halibut (15–70 lbs.)
Lingcod (6–20 lbs.)
Chinook fishing picks up; fish top out around 50 lbs.
Coho begin to show up mid-month, strong by month's end (4–10 lbs.).
Good for bottomfish, with sizes increasing; halibut (15–70 lbs.) and lingcod (6–20 lbs.).
Chinook fishing reaches its peak, with the big ones (50–80 lbs.) arriving early in the month. Begin to slow by third week
Coho: Plentiful (8–14 lbs.) to the point of tired arms for anglers.
Very good for bottomfish; excellent for halibut and lingcod.
Chinook continue to trickle in (12–25 lbs.).
Coho fishing is excellent for most of the month (9–15 lbs.).
Bottomfish are epic all month long. All sizes of halibut (table to very large). Lingcod are excellent (we release all those over 20lbs.).
Salmon fishing remains good, with coho strong until mid-month (10–20 lbs.).
Bottomfish remain strong; halibut (15–70 lbs.), lingcod (6–20 lbs.).
Limits
We adhere to all size and catch limits set by Fisheries and Oceans Canada.
Limits are subject to last-minute changes.
Recreational fishing limits, openings and closures in British Columbia (Area 3). Learn more
Type of fish
Bag limits
Possession

2
4

4
8

Halibut
Possession/bag limits dependent on size
90 cm - 126 cm: 1 Under 90 cm: 2
1 or 2
1 or 2

3
6

Rockfish
Only 1 may be a China, tiger or quillback
3
6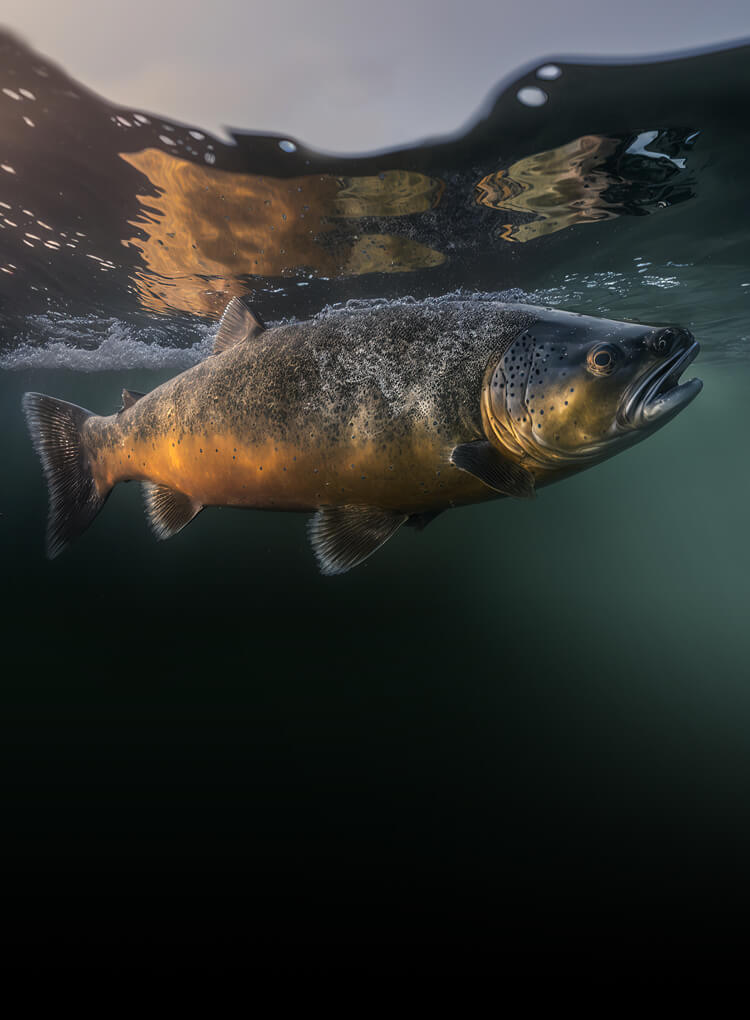 Sustainable fishing
Our guests catch more than they can keep. Our guides are well-trained in proper catch-and-release techniques. Releasing fish unharmed helps ensure species health and means future generations can enjoy the thrill of landing a big one.
More information on catch-and-release can be found at Keep Fish Wet.
---
Our environmental partners
When you live beside the ocean, you tend to get a little protective of it. We support various organizations that feel the same way.